How to transfer your iCloud backup to your new device
Updated 9 months ago
1. Turn on your new device. A "Hello" screen should appear. If you've already set up your new device, you need to erase it before you can use these steps. Follow the steps until you see the Wi-Fi screen.
2. Tap a Wi-Fi network to join. Follow the steps until you see the Apps & Data screen, then tap Restore from iCloud Backup. Sign in to iCloud with your Apple ID and password.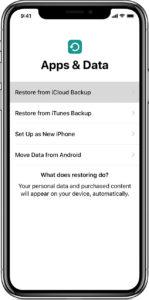 3. When asked, choose a backup. Make sure that it's the correct one by checking the date and size of each. Stay connected and wait for the restore process to finish, then complete the rest of the onscreen setup steps.
Was this article helpful?